If you own a retail business, convenience store or an outlet, wire display stands/racks would make the most advantageous & functional addition to your store. Being versatile in nature, wire display products can be used to display virtually anything and everything. Whether you own a Clothing Store, Grocery Store, Convenience Store, Shopping Complex, or a Gift Shop, these stands or racks makes an excellent investment.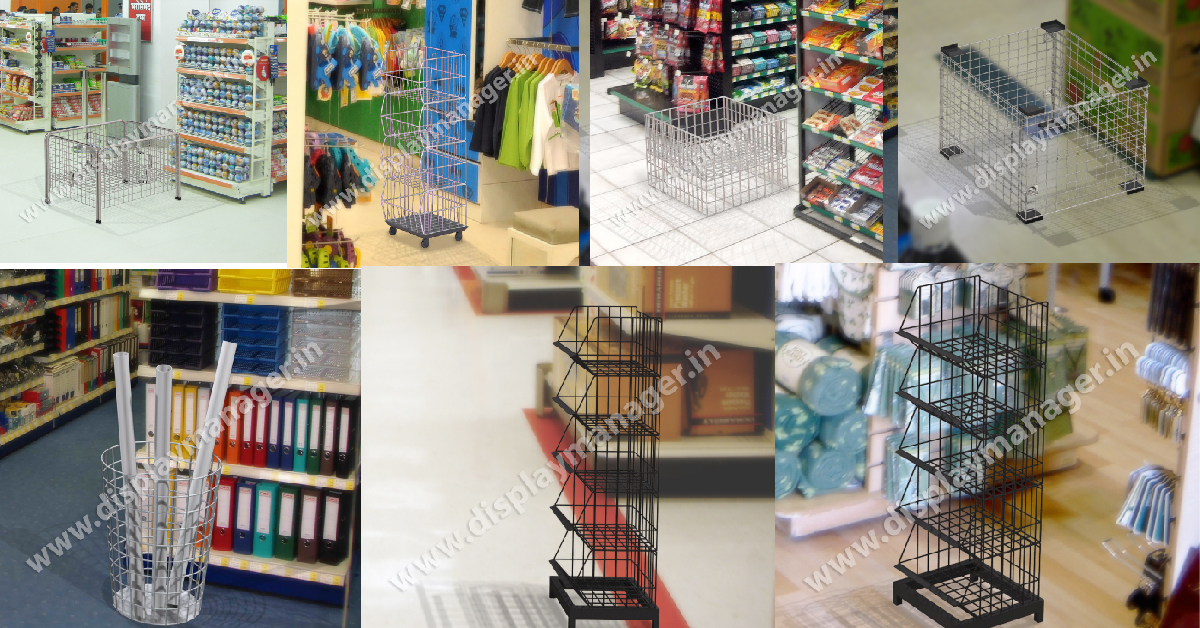 With inherited portability, these wire displays are light in weight and can be easily moved around the store, allowing you to quickly relocate them from one place to another, as and when required. Owing to the convenient & ergonomic design, stores with restricted shelf capacity & space gets benefited the most with these wire display racks as they can be easily placed against a wall, positioned in an empty corner, slide onto a shelf or serve as a free standing unit as well.
Apart from its design, its usability also makes it a must-have for every retail outlet. Yes, these flexible & curative units are just the right thing for displaying items like candies, accessories, food items, books, magazines, toys and more, augmenting your products' visibility as well as ensuring a neat display for each and every item. Additionally, stores can also use these flexible retail storage solutions to organize items as per category or type, making it effortless for customers to spot or locate the product they require.
Arriving in varied shapes, sizes with customizable options, these wire products can add oodles of practicality to your store. Furthermore, they are suitable for large as well as small sized outlets and allow you to choose from suitable variants, like Aligator Stands, Stackable Baskets, Broom Stands, Cage Pallet, Dump Bin, Stall Bin, etc.
Let's give a glance over the usage and benefits of these wire products, offering absolute storage and space solution:
Aligator stands perfectly exhibit an amalgamation between utility and finesse. Designed with 5 compartments, an Aligator stand gracefully stores and displays items like Toys, Books, Magazines, Food Items and more at a retail outlet or super markets.
For outlets with limited shelf area, a stackable basket with or without castor wheel serves as an ultimate space-saver and can be placed at billing counters or exit doors for impulsive buying. A stackable basket would also be used for inventory stocking purposes at Warehouses or pharmaceutical or industries for stacking the products while in process.
Stall Bins are a portable, storing and promotional solution for retail outlets. Additionally, you can also display your clearance or impulse stock in these stall bins like cosmetics, toys, games, clothing and more.
With an elevated profile, this wire broom stand is ideal to be positioned on the unutilized spaces or corners at your store to display items like Mats, Brooms, Charts, Umbrellas, Paper Rolls and more.
Spaciously designed, dump bins are perfect for collecting laundry, displaying toys, stuffed animals, canes, gift wraps and more for gift shops, toy stores, etc or dumping the trail room clothes, etc.
Spaciously designed with massive loading capacity, this stackable cage pallet would solve a retail store's stock problem. These cage pallets find their way in stockrooms and warehouses as well for the purpose of stocking and organizing the stock and heavy food packets.
With plethora of products to choose from, it becomes a hassle for a retail store to identify the trusted name to rely upon. In such a scenario, names like Display Manager and a few other known names can come to your rescue in manufacturing and supplying premium quality wire display products, which are not just high on functionality but will serve you for years to come, thanks to their finest quality, anti-corrosive wire construction with tailor-made customized products proffering ensuring that every inch of space is well served and effectively used.