Time, Space and Hygiene- These three are the factors on which Hospital Industry mainly works, and we can say that these are the backbone of the medical profession.
If we talk about the storage requirements, they are entirely different than those of other industries as their internal storage needs are a mix of delicate and sharp objects. Thus, the solutions should be flexible, time-saving, space-saving and most importantly hygienic.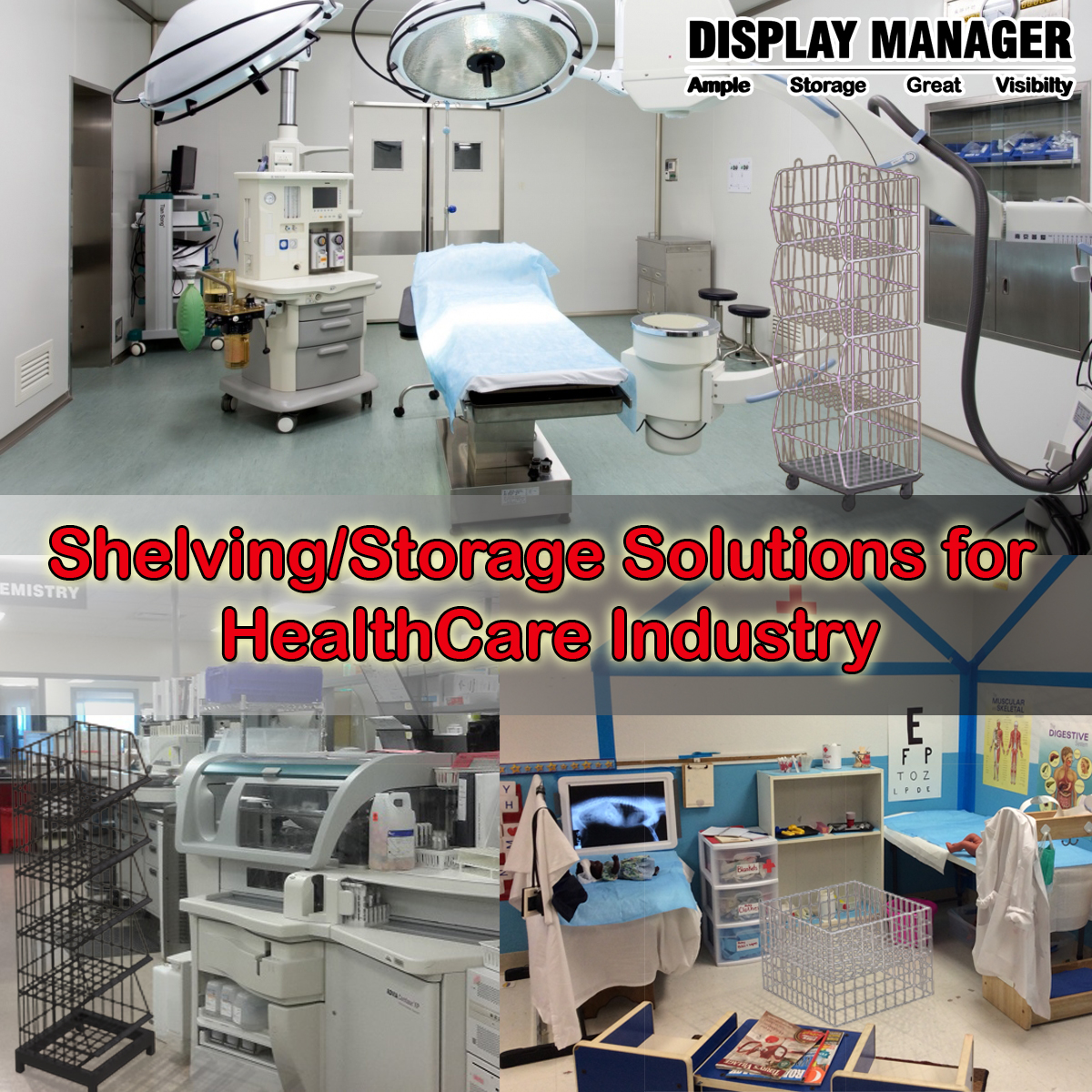 Considering these requirements, Display Manager provides custom made solutions for the shelving and storage needs of hospital equipment.
The solutions are designed in a way to save the space and are portable enough for easy shifting. The wire design of the products assists the user to find the objects faster than any other storage, hence giving one more reason to choose this range.
The individual units of the hospital like operating theatres, general wards or central supply departments have specific storage requirements which can easily be fulfilled by the products from Display Manager.
The range that can suit this industry includes-
Made from high-quality material, the size and color are customizable as per the requirement of clients.
The main features of Display Manager Shelving & Storing Units are-
Portable and Light Weight
Wire designs for better visibility
Ample Storage Capacity
Customizable Size and Design Options
Almost Dust Resistant
Wide Range of available options
High-Quality Material with safe corners.
So, if one decides to choose these flexible and awesome solutions, the benefits that will be delivered are as follows-
Organized Work
Increased Storage
Improved access
Better visibility
More hygiene
Better performance
Hence, no matter the storage need is of which type, Display Manager fits the needs of all kind. Being a market leader from past so many years, we are continuously working hard to provide constructive solutions for various industries. We ensure the right placement of every product at your place. Our products stands for our credibility in the market and are known for outstanding quality.
You can have more details about our products at http://displaymanager.in/ and order by calling at +91-9910398700 or email us at info@displaymanager.in