"Opportunities don't happen. You create them."

— Chris Grosser
Business is another name to see opportunities even in the little things, and when it comes to special celebrations, they hold a different place in the dictionary of business profits.
Mother's Day is coming on May 14th, the day to honor the motherhood. People on this day shower their love on their beloved mothers by giving them the nicest treatment and the beautiful sweet gifts.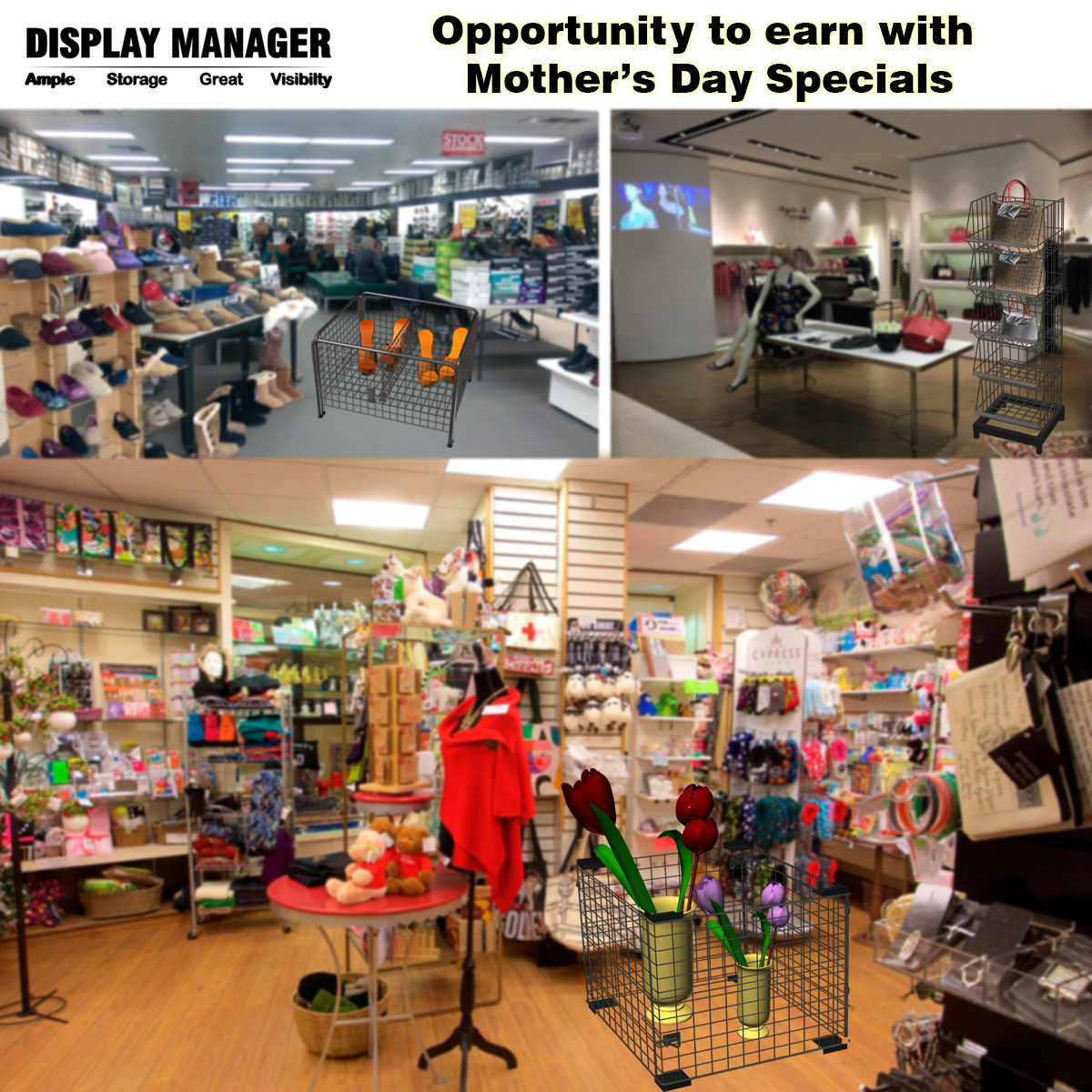 Apart from the beauty and the lovely feel of this day, the other side of the coin is- business people gets the opportunity to increase their sales profits by selling flower bouquets, customised gifts and greeting cards on this occasion.
Display Manager brings here some ideas that you can see as an opportunity to earn with Mother's Day Specials and also helping you to achieve the same.
Take a look-
Bouquet Sale– Wow them with the extravagant Mother's Day roses, orchids, daisies, tulips, or a mixed bouquet of beautiful blooms. These flowers can be displayed by placing beautiful vases and bowls in Cage Pallets from Display Manager.
Personalized gifts– People love to give personalized gifts like mugs, cushion covers, photo frames, or other things to their mothers so that they can be remembered for many years to come. The value and the presentation of these gifts can be enhanced by displaying them in proper racks. Stackable Basket from Display Manager is perfect for storing these kinds of items.
Chocolates– No one can deny the fact that women love chocolates and gifting a mother with some delicious chocolate boxes are one of the perfect gifts you can give her on this special day. Knowing this fact, most of the people love to buy chocolates on this day, and you can save this opportunity by displaying top quality and different variety chocolates in Alligator Stand from Display Manager.
Accessories– When it comes to choosing a gift for a woman, no gift is better than a lovely piece of accessory. Selling a classic range of jewellery and the watches can earn you lots of money on this day. Alligator Stand is again perfect for displaying this kind of accessories in your store.
5. Footwear on Sale– A pair of beautiful sandals for a mother is the gift that you can make available for your customers in the store. Stall Bins and Dump Bins can be used to attract the attention of customers at your place. Also, displaying a catchy title tag above these bins contribute to the increased sales too.
Handbags- Be it a clutch or a big shoulder bag, the gift is perfect for working mums. Display these iconic gift items in Alligator Stand and enhance the value of the products with this perfect display option.
Traditional or Western Dresses– No number of dresses is sufficient when it comes to women. Kids love to buy their mum a dress of her choice when it comes to mother's day. Dump Bin, Stall Bin, Cage Pallet, Stackable Basket can be used to display the apparels for lovely ladies.
Greeting Cards– Last but not the least, no gift is complete without a personalized hand written message on a simple and sweet greeting card. Display these greeting cards for mother's day wishes in Alligator Stand placed near cash counter and experience the increased sales in a short time.
Conclusion: Hence, these were some of the ideas that you can use as opportunities for your profit. You can also think according to your creativity and sell some unique items at your store, but the only thing that matters here is the right kind of display that you need to choose for a nice presentation of your products.