With the changing time comes the changing needs and everyone today wants the dynamic solutions for the ever-changing problems.
Here, today we are typically talking about the need for retail storage and space management and facing the challenge to manage it without disturbing any previously done interiors.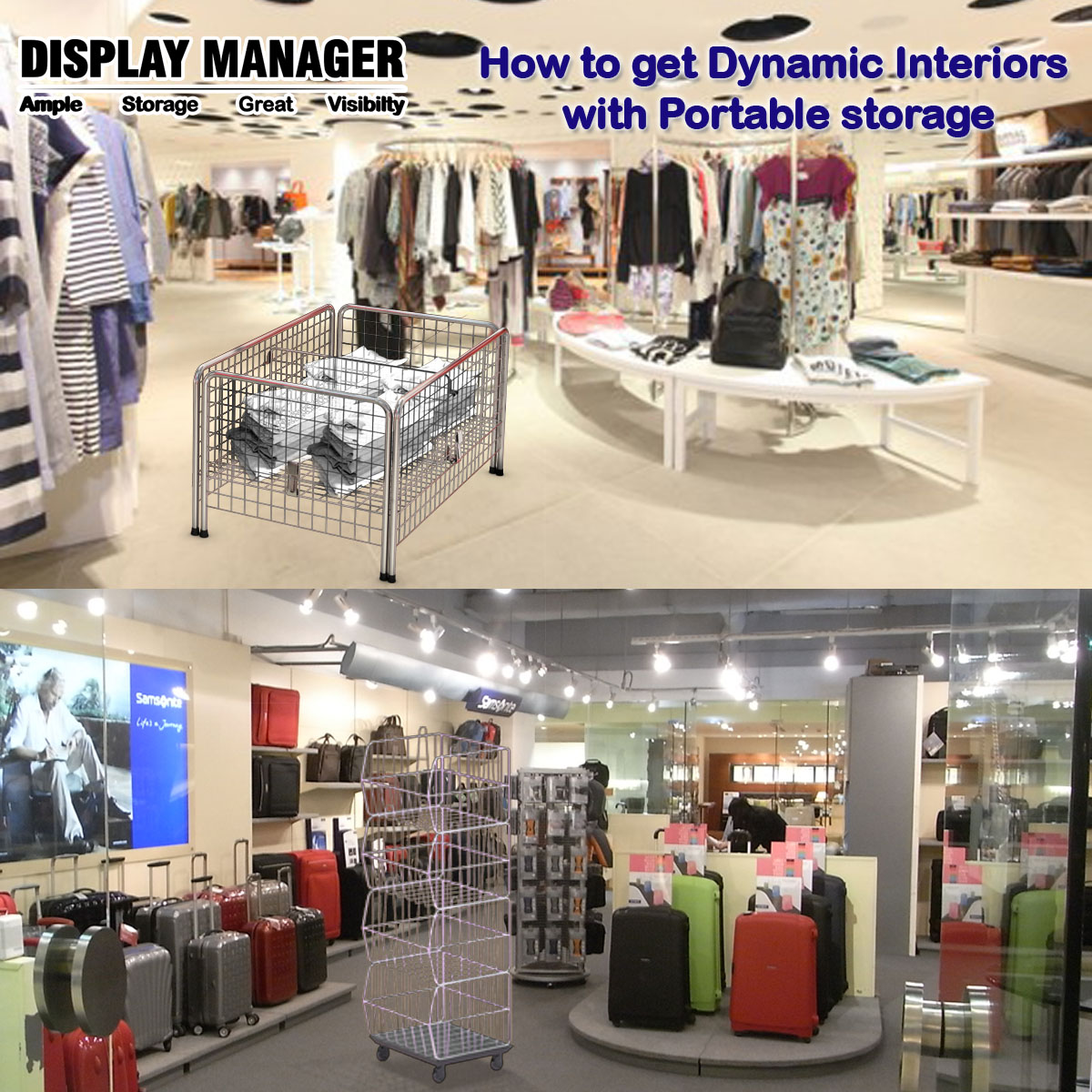 All this can be possible if we draw our attention to the most popular solution of the recent time i.e. mobile/portable storage solutions for your store.
Not only these portable storage bins and racks are easy to move, but they also help in turning your space into an attractive looking pleasant place.
Benefits of implementing portable storage solutions:
No need for indoor renovations– With the perfectly flexible, storage solutions from Display Manager, previously done interior work would not get affected, saving you from any renovation costs.
An attractive makeover of the place without much efforts- By welcoming these new portable members into your retail store, you can quickly change the look and feel of your store and that too without doing any heavy loading and shifting tasks.
Best use of corners and unused spaces – You may find several corners which had been ignored for years and hold the capability to do a lot for your increased sales profits. Putting these mobile storage solutions at the corners will ultimately attract the customer's attention and get you more money.
Dynamic options for the interior decoration at several occasions– Decorating the store differently according to each occasion is a trending activity these days. You can do this easily by installing cost-effective, easy to install and customised options from Display Manager.
Cleaning and uncluttering will be easier– These tasks of cleaning under the racks and the bins that were earlier deemed to be the tougher ones are now easy and fast when you use portable and lightweight storage solutions from Display Manager.
Not much physical strength is needed for moving the products here and there– No extra workforce is required to move the heavy goods from one place to another. Display Manager is there to do the whole task without getting anyone tired from these shifting jobs.
Customer's convenience into consideration-Customer is King, and we mean that so seriously that the design of Display Manager Products considers the needs of every customer in advance. Size and Shape of the bins and racks makes it easy to reach and get a hold of any stored product.
Much better advertising opportunities– Advertising opportunities gives you the chance to earn maximum profits via minimum expenses. Putting the new merchandise every other day into the dump bins will attract the customer's out of their curiosity and will lead to the tradition of impulse buying at your store.

Space optimization– Display Manager is an expert in using the space in the most optimized way and thus letting you display and store the products in the most productive manner.

Easy to store whenever not in use– When the particular Display Manager product in not in use, there are no worries to store them in the backspace. Just cart them to the place where you need them to be kept, and they will be waiting patiently for their turn to serve you, without even taking much space for themselves.
Hence, Mobile/Portable Solutions from Display Manager can help you get the dynamism quality for your store without much investments and efforts. Order Now to make your store as dynamic as never before